Chevy Equinox MPG Review
When you want to hit the open roads of Statesboro, Metter, and Sylvania, you'll need a spacious vehicle that has all the amenities you deserve. The Chevrolet Equinox provides smooth performance and comes equipped with state-of-the-art technologies. Plus, with an excellent fuel economy, you can hit the road even more.
At Franklin Chevrolet, we want you to drive a vehicle that is perfectly efficient, which is why we created our guide to the Chevy Equinox MPG. Below, you can find out all about the MPG of the Chevrolet Equinox and the different configurations available, so you can choose the setup that is best for you.
Equinox Gas Mileage Overview
The Equinox is available with three engines and two transmission options. Though all configurations offer optimal fuel efficiency, there are some differences. Depending on your driving habits and needs, there is surely an option perfect for you.
Chevrolet Equinox Standard MPG
The 2019 Equinox is standardly equipped with a 1.5L 4-cylinder turbocharged engine. This gives this crossover 170 horsepower and 203 lb-ft of torque for a vigorous ride. This powertrain is also paired with a 6-speed transmission that is electronically controlled. This not only helps with shifting control but offers an elevated fuel economy as well.
Due to this pairing, you'll get a great combination of power and efficiency. The EPA-estimated MPG for this standard configuration reaches heights of 26 city/32 highway/28 combined, leaving you to fill up your tank less often.1
Chevy Equinox Upgraded Engine MPG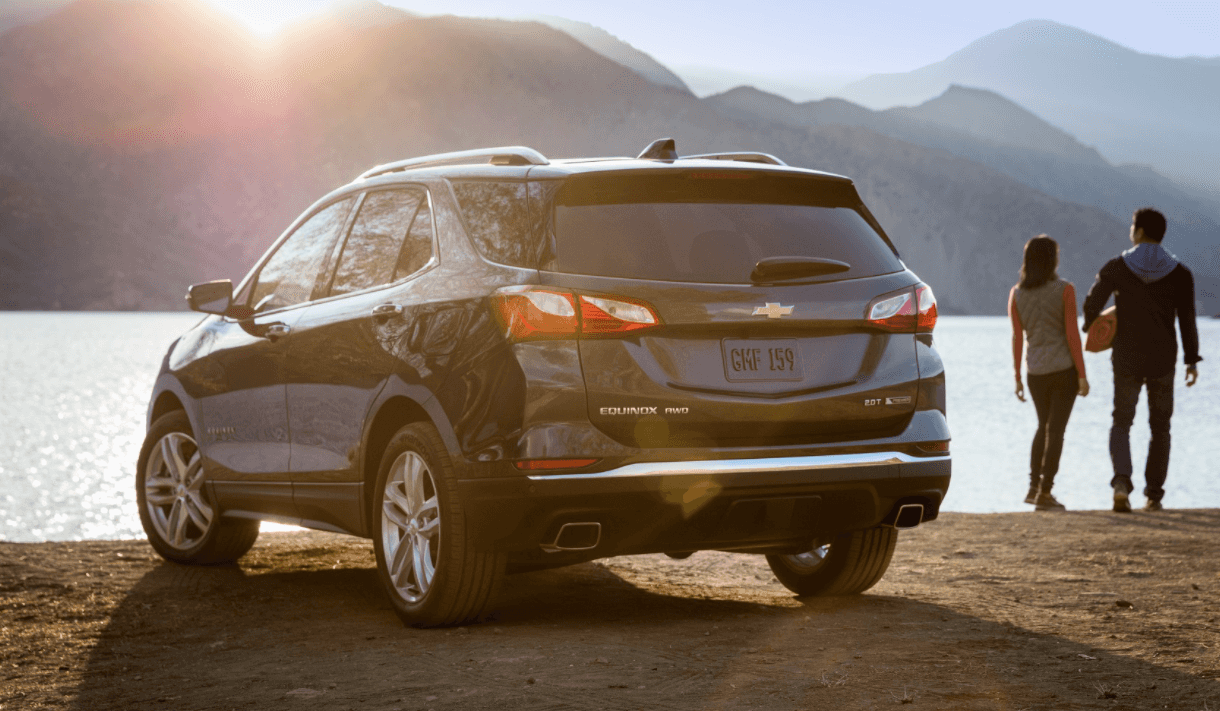 If you need some more oomph under the hood, the 2019 Equinox also makes available a 2.0L 4-cylinder turbocharged engine. This amps up the strength of this crossover with 252 horsepower and 260 lb-ft of torque, resulting in a towing capacity of 3,500 pounds. This powertrain is also matched with a 9-speed transmission with gear range select for extra shifting options.
Because of the extra power this engine provides, there is a slight difference in the estimated fuel economy. However, with 22 city/29 highway/25 combined MPG, you'll still be visiting the gas station less frequently.2
Chevy Equinox Diesel MPG
The last engine option for the Chevrolet Equinox is the 1.6L 4-cylinder turbo diesel, which gives you the best efficiency this crossover has to offer. It generates up to 137 horsepower and 240 lb-ft of torque. Although that's less power than the standard model, it makes up for it with a remarkable MPG.
EPA estimates for this configuration come in at 28 city/39 highway/32 combined MPG, which is ideal for those longer commutes.3 There's not going to be any extra trips to fill up the tank with this model!
Chevy Equinox MPG: Efficiency At Your Fingertips
If you'd like to see what the fuel economy of this crossover is like in person, reach out to the team at Franklin Chevrolet today. When you schedule a test drive, you can see how efficiency and power combine, leaving you with a well-rounded commute in the Statesboro, Metter, and Sylvania areas.
1 EPA-estimated 26 MPG city/32 highway on 1.5L FWD models.
2 EPA-estimated 22 MPG city/39 highway on 2.0L FWD models.
3 EPA-Estimated 28 MPG city/39 highway for 1.6L Diesel FWD models.