24 Hour Towing
Franklin Chevrolet's 24 Hour Tow Service In Statesboro
Welcome to the Franklin Chevrolet's 24-Hour Tow and Emergency Roadside Assistance. Since 1940, we have been meeting the automotive needs of residents throughout Georgia. We have built our brand on the principles of delivering superior customer service, treating people fairly, and being there when our customers need us the most.
At Franklin Chevrolet, we offer 24-hour tow services and emergency roadside rescue for residents in Bulloch County and surrounding areas. We pride ourselves on being there when you need us the most. Instead of using answering machines, we offer 24-hour dispatchers who remain available for you regardless of the time. Contact the Franklin Chevrolet 24-hour Tow Truck Service and Emergency Roadside Rescue today at 912-687-3701.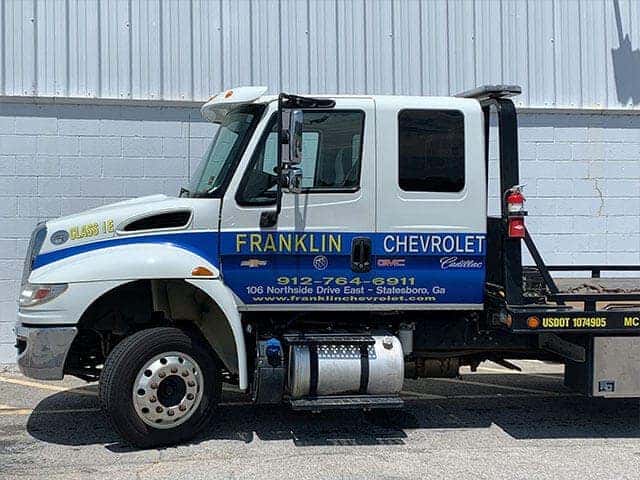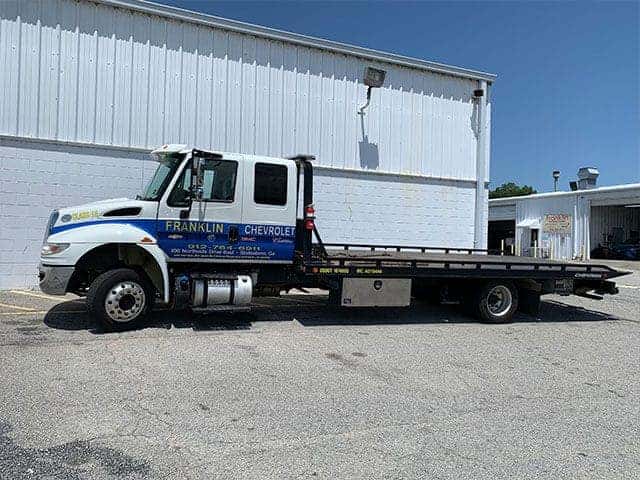 Areas Served By Franklin Chevrolet 24-Hour Towing Company
At Franklin Chevrolet, we offer our expert 24-hour tow services for an expansive area. Whether you need a tow truck from Georgia Southern University Golf Course at University Park, Mill Creek Regional Park, or at the Davenport House Museum in Savannah, we offer around-the-clock towing and emergency roadside rescue solutions. A few of the most common areas we serve include:
Rincon, GA
Pooler, GA
Vidalia, GA
Hinesville, GA
Fort Stewart, GA
Garden City, GA
Richmond Hill, GA
Savannah, GA
Wilmington Island, GA
Jesup, GA
Hilton Head Island, SC
Beaufort, SC
Dublin, GA
Augusta, GA
North Augusta, GA
24-Hour Emergency Roadside Assistance And Tow Truck Services
In addition to 24/7 tow truck services, we also offer prompt and friendly 24-hour emergency roadside assistance. Our roadside assistance service includes a long list of services, such as:
Dead battery jumpstarts
Flat tire change
Lockout services
Vehicle recovery services
And more
Regardless of your needs, our expert towing operators will arrive on the scene with all of the necessary equipment to get you out of the stickiest situations. We utilize state-of-the-art equipment to ensure we are able to deliver the most efficient and effective emergency roadside solutions. In most instances, we will show up at your location in as little as 15 minutes to an hour or less.
Contact Franklin Chevrolet For 24-Hour Tow Service
In the event of an emergency, you should never be expected to wait hours for a tow truck or for emergency roadside assistance. With Franklin Chevrolet's 24-Hour Roadside Assistance and Emergency Tow Service, we will be there when you need us the most.
All of our tow truck operators are professionally trained and will complete every job with superior customer experience in mind. Instead of losing sleep over your roadside emergency, contact Franklin Chevrolet in Statesboro today for professional, friendly, and fast 24-hour tow services.
Call Franklin Chevrolet 24-Hour Tow and Emergency Roadside Assistance now at 912-687-3701!
---